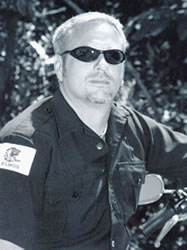 Name: Bob Narley
Birth date: 11/19/1965
Birthplace: Chicago, Ill.
Radio Career: Bob's radio philosophy is simple and it works, play as much great rock music as you can, while having as much fun as legally possible. He uses the perfect blend of creative local content and plenty of rock!
Bob's first radio gig was at the infamous WXTB 98 Rock in Tampa Florida. He quickly worked his way from Executive Producer to Co-Host of the All Request Morning Show. During his 6 years of major market morning drive, Bob created over 1800 original comedy pieces and formed the nationally recognized parody band, The Killer Kona Buds.
After the sale of WXTB, Bob worked as a freelance comedy producer, creating outrageous comedy productions for morning shows all over the country.
In September of 2001, WRQC-FM called upon Bob to bring his creative talents and unique style to the new Real Rock 92.5, broadcasting to all of SW Florida. The Bob Narley Show featured Bob as host, Jack Killian as Co-Host, and Johnny Wad as the stunt boy. Implementing such notable benchmarks as "Torture Tuesday" and "You Say It, We Play It", the show quickly became a hit with men 18-34 and 25-54.
Since the beginning, The Bob Narley Show has consistently dominated the competition in every time slot, beating out syndicated talk shows as well as local buffoons. The success of the show is proof that with the right talent and original topical content, a local music intensive show can win against the egotistical shock jocks.
Notes:
Bob Narley is a practicing musician with over 34 years of experience on the guitar, bass, and keyboards. He has performed live, solo and with The Killer Kona Buds, in front of record crowds at festivals such as Livestock and Guavaween. He's been recognized for his talents at comedy production and endorsed for his skills at Digital Audio Production.
Bob studies improvisation at the famous Second City in Downtown Chicago, and can usually be found in one of three places; On his 2003 Harley Davidson Fat Boy cruising around the back roads of Illinois, working in his digital production studio, or hiding in the dark corner of a downtown blues bar sipping on a sweet delicious Jack and Coke. Now entering his 8th year as President of KKI Digital Media Production, Bob currently resides with his family in his hometown of Barrington Illinois.
Bob Narley's Personal Email:
Bob@bobnarley.com